Random Walk in a Gallery of Religious Art, Step 33: Mark 12:13-17, The Tribute Money, by John Singleton Copley (7/15/15)

I have read that when you counterfeit money (Don't!), it's much more important to get the feel right than to get the printing details right. Think about it: you could easily tell a dollar bill from a credit card receipt in the dark, but when was the last time that you actually looked at your money?

American artist John Singleton Copley gives us a wonderful illustration of both the scripture and of human nature in "The Tribute Money" (1782). The guy in the back is thinking, "Hmm. That didn't work out the way we planned." The guy in the front left still wants to argue with Jesus. But I love the old guy in the center. He's thinking, "Oh, good one! Look at that – it is Caesar! We never even thought of that. That's funny!"

Previous Step. Next Step.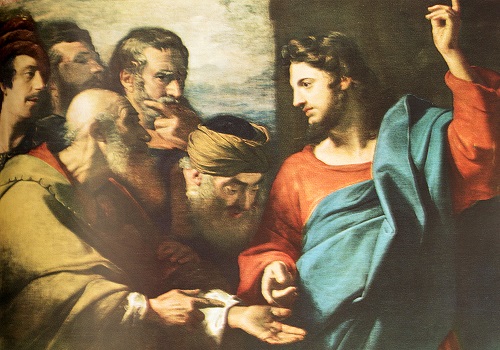 ""The Tribute Money" by John Singleton Copley,
from the Gamble family Bible,
now in the private collection of Regina Hunter. Photography by Daryl Lee.