Gospel Reading

Random walk in a Gallery of Religious Art, Step 42: Matthew 2:1-12, Adoration of the Magi, by Peter Paul Rubens (1/3/11 and 7/28/15)

Epiphany always comes on January 6, and Epiphany Sunday celebrates the coming of the magi to the Christ child.  Naturally, the Gospel reading tells that story.

Peter Paul Rubens apparently did not read the scripture for himself or listen carefully in church. Notice the straw in what surely is a manger. Notice what appears to be a chicken on a shelf above the head of the standing wise man. Notice that vs. 11 says they "went into the house and saw the child." This verse (and the two turtledoves we talked about the other day) provide strong evidence that the magi were not present at the manger, no matter what the picture shows us. Scripture doesn't tell us there were three people, or that the people were men, or that the people came from various continents. It only tells us that wise people came from afar and rejoiced when they found Jesus. All the rest is ancient legend, and you may believe it if you want to, as long as you realize it isn't in the scripture.

Previous Step. Next Step.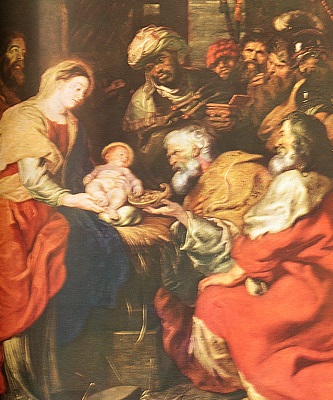 "Adoration of the Magi" by Peter Paul Rubens, from the Gamble family Bible, now in the private collection of Regina Hunter. Photography by Daryl Lee.