The larger version of the map may take a bit to download, but it will be well worth your time.

Abraham was living in Canaan, which is just east of the Mediterranean ("Great Sea") in Section Cb near the lower right of the map (modern Israel). Ur of the Chaldees is at the bottom of Section Db, in the far lower right of our map, and that's where wikipedia puts it, too. I have seen other studies that put it somewhere up in Turkey, and indeed our map has a second Ur, just to the left of the "M" in Mesopotamia. Either way, it was 600 or 700 miles, which is a long way to ride a camel.

Remember that Abraham's father had moved his family from Ur to Haran; apparently Haran and Padan Aram are roughly alternative names for Aram-naharaim, where Nahor, Abraham's brother, had stayed (Genesis 11:27-32). On our map, Aram-naharaim is shown as a region in Mesopotamia, and Padan Aram is just to the right of the "M" in Mesopotamia. "Mesopotamia" literally means "between rivers," and you can see that it's located between the Tigris and Euphrates Rivers. This map appears to me to cover at least a millennium in time; Rome, for example, dates back to about the 8th century BC, whereas Abraham is customarily dated at about 2000 BC.

Previous Step. Next Step.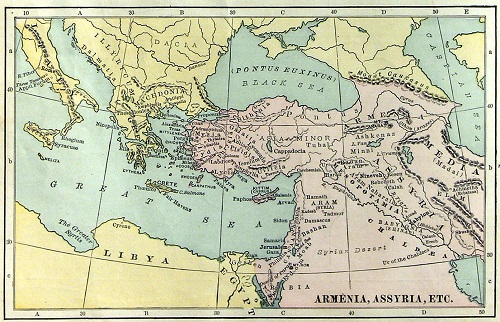 Armenia, Assyria, Etc., is from the Thomas family Bible, now in a private collection of a family member.