Ok, I have to admit that my favorite part of this picture is the goat. The angel looks stern; Abraham looks confused; Isaac looks decidedly downcast. The goat, in contrast, has a happy little goat smile on his face.

James uses Abraham's action as proof of his faith. "Prove to me that have faith if you have performed no faithful actions!" he demands rhetorically. "You can't; however, I can prove Abraham's faith to you by his actions!" Pay special attention to vs. 26. James is saying that if you take the spirit away from the body, the body dies. In exactly the same way, if you take works away from the faith, the faith dies. Good works won't save you, but doing them will keep your faith lively.

Previous Step. Next Step.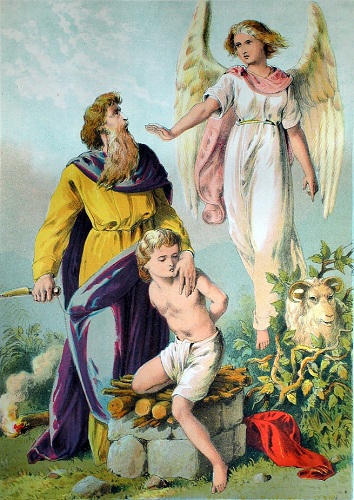 "The Sacrifice of Isaac" from the Binns family Bible, now in the private collection of Regina Hunter.