God was pleased with Solomon, not because he offered 1000 burnt offerings, but because he admitted that he was in over his head and needed God's help. God gave him the wisdom he asked for, and in addition God gave him wealth and power. The best-known example of Solomon's wisdom, of course, is the way he determined which of the two women who came to him was the real mom. Gustave Doré shows the dramatic moment when Solomon stands to give his decision. I'm interested in the two women. The real mom is frantic. She throws herself on the swordsman to physically prevent him from harming the baby. The fake mom, in contrast, is perfectly calm, and she's not even looking at the baby. I like the way Doré has rendered her as the darkest of the prominent characters, to suit her dark personality.

Previous Step. Next Step.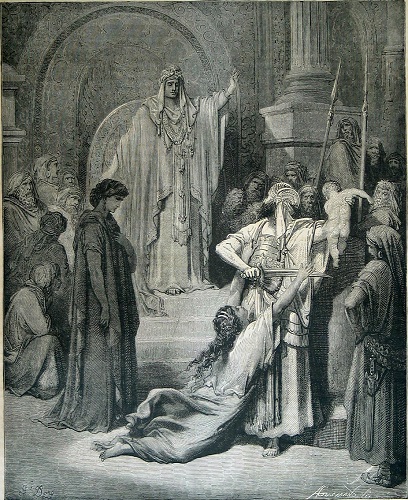 "The Judgment of Solomon" from the Gartin family Bible,
now in the private collection of Regina Hunter.